I write erotic books as well.I'm told they are quite efficient tease pieces, building up to an excellent climax. For now they're ebooks so get them for your pleasure and put them on your favorite device or get a kindle app for your phone!
Strung & Choking-$2.99
"Abernathy struggles with her relationships with men, especially her Father. They say Absinthe makes the heart grow fonder. "


S&M: Sex and Machinery-$1.99

"A collection of short novellas featuring BDSM in fantastical setting split between a steampunk story and one featuring a werewolf popstar and extras. "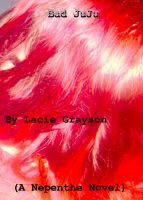 Bad Juju :A Nepenthe Novel - $2.99

"Lux Shimshi is a medium and one of the last mermaids living on the eastern seaboard. She's haunted in more ways than one."

(also on Amazon)
Strange Magic: A Nepenthe Story - $.99
"Between here and there. Not quite the first, but not quiet the second. The lost stories of Lux Shimshi.Find out what happened to Jack, what's up with Suki, and if Lux is packed to Travel."

Candy Flipping - $.99
The Pixies asked a question in the song "Where is My Mind?" Lacie attempts to answer as she flips here. Part coming of age and part faerie tale. This is the story of a submissive young woman. Lost between reality and Wonderland.